IN THE NEWS
I recommend reading Eliot Cohen's short piece, "History and the Hyperpower," in the July/August 2004 issue of Foreign Affairs. It's a good thought piece, in the literal meaning of that term. The article is intended to get the reader to think about the US position in the world in a particular frame of mind: the realistic appraisal of what a "hyperpower" should and should not do in its foreign policy. It summarizes neatly the relevant facts (for example, the astonishing conventional military dominance of the US), as well as the important challenges the United States faces (for instance, how smaller actors, like al Qaeda or Saudi Arabia, have the advantage of focus and endurance that the US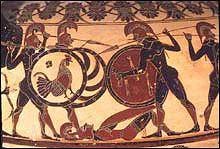 lacks).
It's a good piece from a level-headed scholar who rarely disappoints. Since one of Cohen's stated aims is to get the reader to think more about useful historical examples that might guide the United States, I'll say that, in my case, he succeeded. He got me thinking again how much more we should be studying the Peloponnesian Wars for lessons, and more importantly, for warnings. Athens, the democratic superpower of its age, pursued an arrogant, corrupt, and ultimately failed strategy against Sparta. It abused allies and enemies alike, rolled the dice on reckless gambits like the Sicilian expedition, and mistakenly trusted leaders like Alcibiades, whose statesmanship, sadly, never matched his popularity.
The other thought I had after reading Cohen's article is how much the military requirements of the United States resemble that of the late Roman empire. Like Rome, the United States needs a quick reaction force that could move to any theater where it might be needed. Like Rome, the US needs to maintain a superiority in fighting ability to offset an inferiority in numbers. Like Rome, US forces need to fight side-by-side with allies (or, in Roman terms, auxiliaries). And, like Rome, the United States needs to be careful as the dominant power to never let a coalition of its rivals form. That's what makes the Bush Administration's bluster hard to take at times--not just because the rhetoric is needlessly undiplomatic, but it's also needlessly provocative to multiple rivals at the same time.
Anyway, forget about my musings, and go read Cohen's article.